All trees in open fields are $75.00.
Hours
Open Black Friday and all Weekends between Thanksgiving and Christmas, 9am until 4:30pm
Weekdays can be arranged by appointment after November 27th.
We are open Sunday 12/3/23, dress warm, it is wet out there.
12/3/23 will likely be our last day of the season. For those of you who have already scheduled appointments for the week of December 4th, we will of course honor those appointments. When we close early, it is to preserve a good selection of trees for the following year and the future.
Other Details
Complimentary baling is offered to facilitate handling of your tree and we are happy to help tie your tree to your car should you like assistance.
We accept cash or personal check.
Many customer have also asked about dogs / pets. We welcome dogs, but we ask that they remain leashed.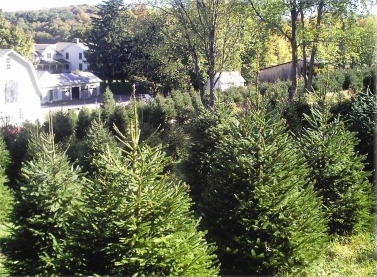 Prices
Trees $75.00
Free tree baling
Funnel Waterer $8.00
Tree Preservative $3.00
Plastic Tree Skirt/Disposal Bag $3.00
Lifetime Tree Stand for 8 ft trees $45.00
Lifetime Tree Stand for 10 ft trees $55.00
5 qt. Bowls for Tree Stands $4.00
Wreaths – Prices Vary
Wreath Hooks $4.00